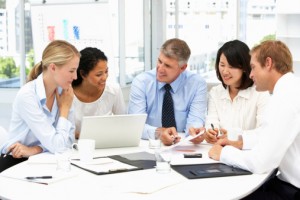 For important decisions, try to look at all of the ideas and determine the one that works best with a compare and score system. This can work in a small committee or in a large employee forum.
Try to Create the "Ideal Solution"

Write down the 2-4 benefits that you are trying to get from making a particular decision.

Write down the 2-4 items you are cautious or worried about.

Have a brainstorming session with the managers AND the employees the decision will affect, it is wise to include other department managers or key employees if they are available because they may have fresh,outside ideas. Explain that this is a positive meeting and people can only make positive comments and suggestions

Write down everyone's suggestions and solutions, and make sure there isn't any negative feedback while the ideas are being collected. Only helpful or positive feedback should be spoken, and if someone comes up with a way to expand or improve the idea it should also be written down.

Score each idea based on a 1-10 system, with 10 always being the best possible score. Take the top two or three and look closer at those decisions.

The main decision makers should meet and discuss the remaining options.

Pros and Cons should be weighed again for each idea and the final decision should be the idea that best fits the ideal solution.
These steps won't work perfect for everyone, because every company is different, so 411 Pros recommends trying it with the idea that you can and should customize the process often to improve the agility of your business when it comes to important decisions and creating intelligent business solutions to company issues.
If you want to be notified when we publish a new great story in our Online Marketing Blog, you can: