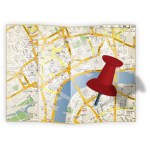 Local SEO refers to optimization strategies that involve going after a local market, generally in the same city or area that the main corporate office of the business is located. Local Search Engine Optimization is a specialized technology in online marketing that increases visibility for businesses requiring a focus on geographically-related (localized) keywords. A large part of Local SEO involves establishing ranking in the local search results (Google Places and Google Maps), as well as ranking well in the organic results for local keywords.
411 Pros uses some local packages that include anywhere from 2 to 7 cities in the surrounding areas around a business' location.
Local SEO is an online marketing technique that includes the three major search engines – Google Places (Google Business Listings), Bing Business Listings and Yahoo! Local as well as local directories such as Yelp, YellowPages, SuperPages and CitySearch just to name a few. All of these include user reviews and ratings.
More than two thirds of all local searches are directed to Google Places (hence the term – 'Google it') where Google Maps technology is combined with local business listings and dominates the Local SEO world. So successful has the integration of local business listings into ordinary search results been, that Google's users are now likely to click on a Google Places result than they are on a standard organic search result because the business name, address and phone number are immediately available without further searching. When this reality is combined with the fact that in 2014, mobile internet usage will overtake desktop internet usage and already in 2012, more than 50% of all "local" searches are done from a mobile device, this marketing technology MUST be included in any business growth strategy.
A business owner can significantly increase the power of his marketing strategy by preparing for a Blended Search Results. This is much more powerful than pure Local SEO, and in order for your business to experience its power a potential customer must be able to BLEND a well optimized local listing with a beautiful, well optimized Website. (See our information on website creation). The conclusion is inevitable – any Online Marketing Program that incorporates a Blended Search Results will generate significantly more results and business growth than pure Local Search Engine Optimization. In other words, and to be perfectly clear, in today's internet world Local SEO MUST also have an appealing and well optimized website as an integral part of a total marketing strategy.
Local SEO is one of the most cost effective ways to get your business shown in a limited market, usually restricted to the city your address is in. Local SEO is an entry-level online marketing strategy, generally receiving a 250% or more R.O.I (Return of Investment).
If you aren't sure what type of marketing would be best for your company, you can speak to one of our online marketing specialists.
To receive your Free Online Marketing Consultation click on this link:
411 Pros guarantees first-page placement on Google's Map section within 90 days of sign-up when you purchase a Locals Package from us. Our Local SEO packages include 5 keywords. There are also Local SEO packages that involve Organic results, which is an amazing combination with the Maps section.
---
GET STARTED TODAY!
---